Description
Juki LU-1560N: The ideal machine for car seats, sofas, golf carts and even bags; two continuous stitches side by side a 1/4″
The Juki LU-1560N unique feed mechanism promises excellent efficiency of feed. In addition to the standard models of 2-needle machines, other models intended for special purposes are available, one having a thread trimmer. The machine is applicable to an extended range of heavy materials for industrial use, such as cargo handling belts and containers, as well as those for industrial use, such as cargo handling belts and containers, as well as those for general use, such as car seats, sofas and bags, thereby contributing to both improved quality and increased productivity.
The higher lift of the presser foot lifts up to 16mm by knee and 9mm by hand making ideal for heavy layers of material. The machine delivers increased productivity at a sewing speed as high as 2,500 Stitches per minute  with a throat space of 517mm×178mm.
This machine has the option of a needle positioner and/or casters for an additional fee. Please select option when adding product to cart.
Freight Charges Apply: After your purchase we will contact you with the final amount. Please select Freight Charges Starting at: $299.00  upon check out to select the minimum charge. 
This item ships from our warehouse. Item is shipped by freight in a semi truck. DELIVERIES to Hawaii are suggested unassembled.
Improved Provability for the Juki LU-1650N
The stitch length can be easily selected by the stitch dial.
The machine is provided with many improved features that offer enhanced operability such as an easy-to-observe area around the needle, placement of the bobbin winder on the front face of the machine arm, and a large handwheel (φ160).
A knee-lifter mechanism is built in the bed. This reduces the pressure required to operate the knee-lifter and facilitates setup. (Machines equipped with automatic thread trimmer are excluded.)
The machine is full-open-type top design makes it possible to fully open the top of the machine arm. Thanks to this design, adjusting works can be done without tilting the machine head.
The machine is equipped as standard with a safety clutch for preventing hook breakage. Reset work can be done simply by pressing a button.
The area around the needle entry is designed to be easily observed
(LU-1560N-7, LU-1561N-7)
Since the needle thread tension-release solenoid is fitted on the rear face of the machine head, the area around the needle entry and one-touch type reverse feed button is easily viewable. This substantially contributes to improved operability.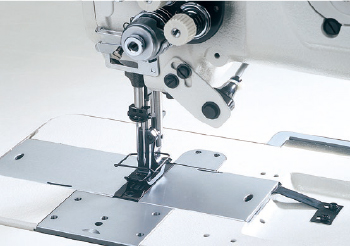 The walking foot and presser foot's alternating vertical movement can be set and changed with ease
(LU-1560N-7, LU-1561N-7)
The vertical strokes of the presser foot and walking foot (their alternating vertical movement) can be easily changed using a large dial mounted on the top surface of the machine head.
In addition the sewing speed is automatically adjusted with the set value. With this feature, ideal sewing conditions are maintained at all times.
The machine is equipped with an instantaneous changeover device for alternating the vertical movement amount of the walking foot and presser foot, which demonstrates its capability for processes involving sewing products with a lot of multi-layered portions.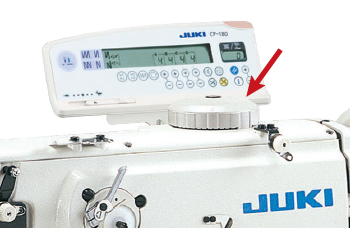 A helpful automatic reverse feed function is provided as standard
(LU-1560N-7, LU-1561N-7)
With just a light press on the one-touch type reverse feed button, reverse feed stitching is actuated. Furthermore if a suspended ruler is attached on the machine or a 3-dimensional sewing product is sewn, the button can be shifted upward to prevent interruption.
The auto-lifter (pedal switch type) helps to increase efficiency by reducing operator fatigue.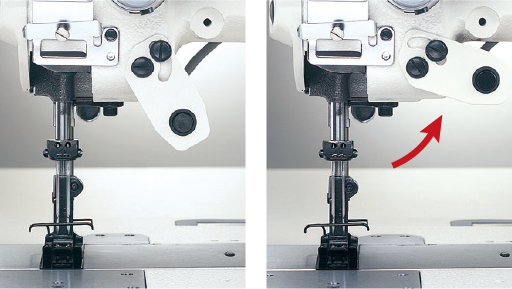 Thread trimming without fail
(LU-1560N-7, LU-1561N-7)
The machine leaves a shorter needle thread after thread trimming, improving thread consumption efficiency. With a rigid knife and improved cam shape, the thread trimmer cuts thread as thick as #5 without fail.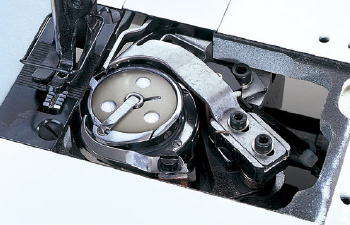 Bottom-feed micro-adjustment mechanism is provided as standard
(LU-1510N-7, LU-1511N-7)

The 1-needle type machine is equipped with a bottom-feed micro-adjustment mechanism with the needle feed amount fixed. This helps prevent irregular stitches which are free from pitch errors.